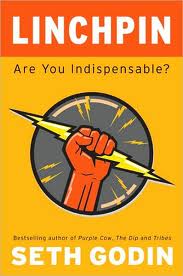 What a fantastic read this book is my friends. Seth's writing is easy to read and it feels as if he is speaking right to you about the strategies and necessities in today's world. In this challenging marketplace times that we live in, it is CRITICAL that you step up and stand out – this book will push and teach you to do that! You can choose to be average, you can choose to stay where you are, you can choose to whine and complain that everyone else gets the "breaks" or you can dive into this book and these insights and begin the journey of truly becoming indispensable in all areas of your life. Don't hesitate, get into reading and studying this book ASAP!
This book is as valuable as any of the books in my Success Library and has endless amounts of lessons for you to learn and apply into your life.
Here are 3 of lessons that I've taken away from the book:
1. Becoming a Linchpin is not an act of selfishness, but an act of generosity and service. In order to add the most value to your family, team, and organization, you must be comfortable with your best self and know who you are and what you do well. Focus on investing the emotional labor in becoming the best you while continuing to add value to everyone around you.
2. Focus on the ones that want to hear and see you perform. There will always be naysayers in the world that will want to stop you from becoming the successful linchpin you deserve to become, yet there are millions of others that want and need you to bring your gifts to the world. Which one are you going to focus your energy on? That's right….the ones that want and need your gifts.
3. The two things that Seth Godin lists as items that should be taught in school: The ability to Solve interesting problems and to Lead. When it comes down to it these are the 2 characteristics that add the most value in the world and will create huge opportunities in your life – personally and professionally.
This book will walk you right through the process of becoming a linchpin – why it's important, who is doing it, and how you can do it too. Your life is way too valuable to the world around you for you to not put the work in to become the best you can become. I promise you that when you apply the principles and teachings of this book, your life will never be the same again my friends.
In Service to your Success,
Brandon Johnson
"The Positive Energy Guy"