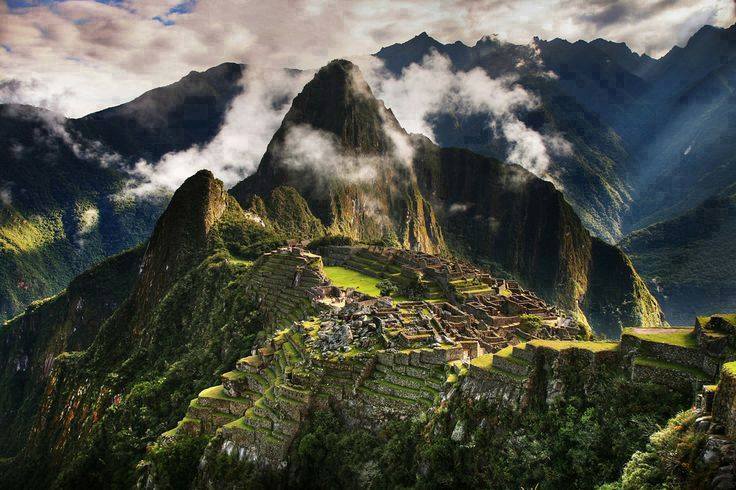 Positive Energy Revolution Adventure Trips are designed and organized for positive people (graduates and family/friends of graduates) to travel/explore the world with other positive people while checking off their bucket list travel destinations and leaving nothing but positive energy behind them.
This is not a training or workshop - this is just an opportunity to grow, learn, travel, and hang out with other Positive Energy People while exploring some of the world's greatest destinations.
DESTINATION:
OCT. 6-13TH, 2017 - Machu Picchu (Peru)
Check out a general overview of the trip below - A passport is required for this trip.
We have partnered with Globus/Monograms to book the hotels & all of the transportation while in Peru. The trip will be a mix of included tours for our group with a local guide along with some free time & optional excursions. A local host will be available to assist us throughout the journey to share local customs as well as giving recommendations for things to do in each area.
ADVENTURE TRIP HIGHLIGHTS
On your first day in Lima, your first Local Host will meet you at your hotel and give you materials to familiarize you with the city. The next morning, after an included breakfast, your guided sightseeing with a local expert features the historic city center and San Francisco Monastery with its underground catacombs—not to mention insider stories to make the experience really come alive.
Then you're off to Cusco, high in the Andes. In Cusco, among many sights, your included sightseeing tour features the Santo Domingo Monastery, an important temple devoted to the sun, and the Temple of Sacsayhuaman, built in the early 12th century with some stones weighing more than 350 tons—built without the use of modern technology and machinery! Cusco offers some fantastic gastronomic delights, so be sure to ask your Cusco Local Host for recommendations.
In the Sacred Valley, visit the market town of Pisac, where you can find local wares at bargain prices, and Ollantaytambo, a great example of Inca town planning and with some of the finest examples of Inca masonry.  No trip to Peru is complete without a visit to Machu Picchu, built in 1450 at the height of the Inca Empire and without a doubt one of the most magnificent settings in South America. You'll take a train to Machu Picchu, receive an included tour, and if you desire, you'll have the opportunity to see the sunrise over Machu Picchu and hike to the Sun Gate, the ancient entrance used by the Incas, with your second included entrance to the ruins. Plus, you'll have access to a Local Host in Machu Picchu—someone who can tell you the history and the culture like no one else.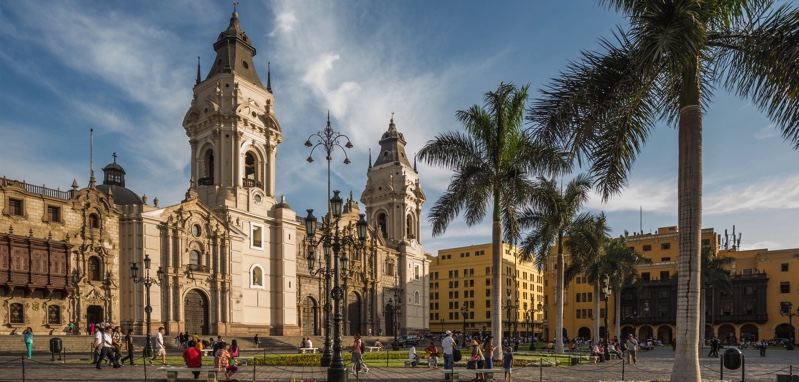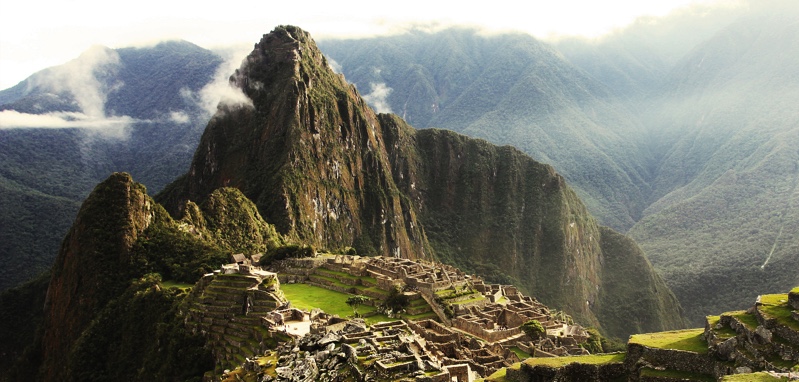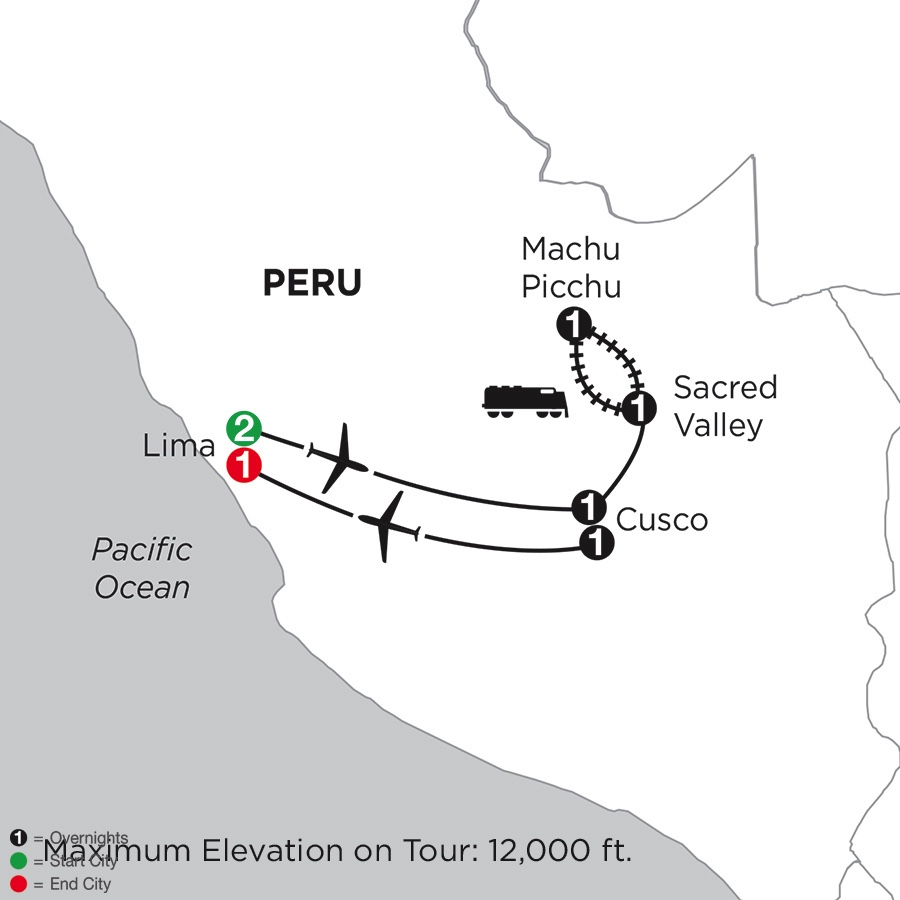 OCTOBER 6 - 13, 2017
DAY 1 ARRIVE LIMA, PERU
Arrive in Lima, where you will be met by your Local Host.
DAY 2 LIMA
Your included city TOUR focuses on Lima's rich colonial history as well as the modern city. Lima was the bastion of Spanish South America from its founding in 1535 until the independence of the South American republics in the early 19th century. See the Cathedral, where the remains of Francisco Pizarro are sealed in a wooden coffin and San Francisco MONASTERY with its eerie burial crypts.
DAY 3 LIMA-CUSCO
Fly to Cusco high in the Andes. Your guided TOUR visits the Santo Domingo MONASTERY, previously the Koricancha Temple, one of the most important temples devoted to worship of the sun. It is said it was covered in gold leaf and filled with golden representations of nature. In the Plaza de Armas, see the Cathedral before taking a short drive outside the city to the ruins of SACSAYHUAMAN with its intricate stone walls, amphitheatre of KENKO, and the Red Fortress of PUCA PUCARA.
DAY 4 CUSCO-SACRED VALLEY
Today, a short drive into the Sacred Valley of the Incas brings you to AWANAKANCHA, where you will learn about the importance of the alpaca (llama) for Inca cultures as well as the ancient weaving techniques. Continue, to the market town of PISAC. Handmade rugs, alpaca sweaters, and jewelry can be bought here at bargain prices. At the other end of the valley is OLLANTAYTAMBO. Here, some of the finest examples of Inca masonry can be seen.
DAY 5 SACRED VALLEY-MACHU PICCHU
Board a TRAIN bound for MACHU PICCHU and cut a path through the Sacred Valley to this "Lost City of the Incas," discovered by American explorer Hiram Bingham in 1911. On a guided TOUR, explore this intact fortress with its temple remains, holy houses, and mile-long aqueduct. For hikers, a brisk one-hour walk leads to the Sun Gate, the ancient entrance used by the Incas.
DAY 6 MACHU PICCHU-SACRED VALLEY-CUSCO
A morning at leisure in MACHU PICCHU allows you to wake up early to see the sunrise over Machu Picchu. Return to Cusco this evening, where your Local Host can recommend dining options for your free night.
DAY 7 CUSCO-LIMA
Fly to Lima, where the remainder of the day is at your leisure.
DAY 8 LIMA
Your vacation ends with breakfast this morning.
INCLUDED FEATURES:
Breakfast daily

2 lunches, 1 dinner

7 night hotel accommodations

Transportation on tour (including train & inner tour round trip Cusco flight)

Sightseeing in itinerary with local guide

Admissions, including Machu Picchu entrance

Baggage handling at hotels

Local host in Lima, Cusco, Machu Picchu
NOT INCLUDED:
Meals on own (plan for $200-500)

Gratuities for guides/drivers

Airline baggage fees

International flight from United States (Globus can assist with booking if desired - plan for $600-1200)

Cost to obtain a passport

Optional Travel Protection/Insurance ($149 - $199 per person)

Optional extra excursions
HOTELS:
LIMA: Jose Antonio Bellavista

CUSCO: Sonesta Hotel Cusco

SACRED VALLEY: Casa Andina Private Collection

MACHU PICCHU: El Mapi

CUSCO: Sonesta Hotel Cusco

LIMA: Jose Antonio Bellavista
PACKAGE PRICE:
$1,906 per person, for  double occupancy (2 sharing a room) if deposit made by March 7!
After March 7, the price increases to $2,031 per person, double occupancy

A $250 per person deposit is due with your reservation

The trip deposit is refundable until April 9

Final payment is due by August 2

Single occupancy (1 person to a room) pricing is additional $522

Triple occupancy (3 people to a room) pricing is available
Questions?  Ready to sign up and get registered?