"The Leader Who Had No Title" by Robin Sharma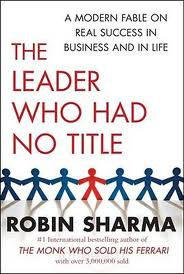 This book is not only an "easy" read, it is full of great stories and examples as well. I found myself very inspired to continue on my own journey of doing my best in every given situation, thus having a positive impact on everyone and everything around me. This little book will have you embracing the fact that we are all leaders in business and in life regardless of title or position and as you perform to the best of your abilities, you'll earn even more opportunities.
I took numerous lessons out of this book, yet here are 3 of them that I applied immediately:
1. When committing to changes in your life personally or professionally, they do not take "hold" or sustain unless you are emotionally connected to the change(s). Just like Tony Robbins says, unless you are in the proper "state" mentally, physically, and emotionally, you will not achieve as much as you deserve to achieve. Focus your energy on getting emotionally connected to why it is you are making the change and I guarantee you will begin to have different results – the "why's" tend to be much more powerful than the "how's."

2. When we individually "shine" (perform) at our highest level, we impact/inspire everyone else to do the same more often than not. And when you have a team and/or organization all performing at their best you have unlimited amounts of success. Performing at your highest level, regardless of a title or position is a choice. A choice that you have to make within in order to consistently perform at the level you are capable of. Make that choice, as the world deserves to see that.
3. "Leadership is for everyone." As I read that in the book, I definitely had this sense from Robin that he was wanting to "lessen" the "burden" of leadership on everyone – to not make it out to be such a troublesome, tough thing to do. He's absolutely right in that Leadership is for everyone and no matter where we are or where we've come from, we have a responsibility to ourselves, our families, and our businesses and community to do our part in making a positive contribution to this world. When all of us do that, I have no doubt that our families, economy, businesses, and communities will not only be stronger, but there will be much more happiness in the world because we would have EARNED IT.
Again my friends, a fantastic read. I highly recommend not only the book, but Robin also has many other tools and resources on his website and elsewhere that will help you on your journey. I have made him a part of my Success Library and I highly recommend you do the same.
I wish you continued success and happiness on your Personal Research & Development journey.
In Service to your Success,
Brandon W Johnson
"Positive Energy Guy"