Understand that I am the problem.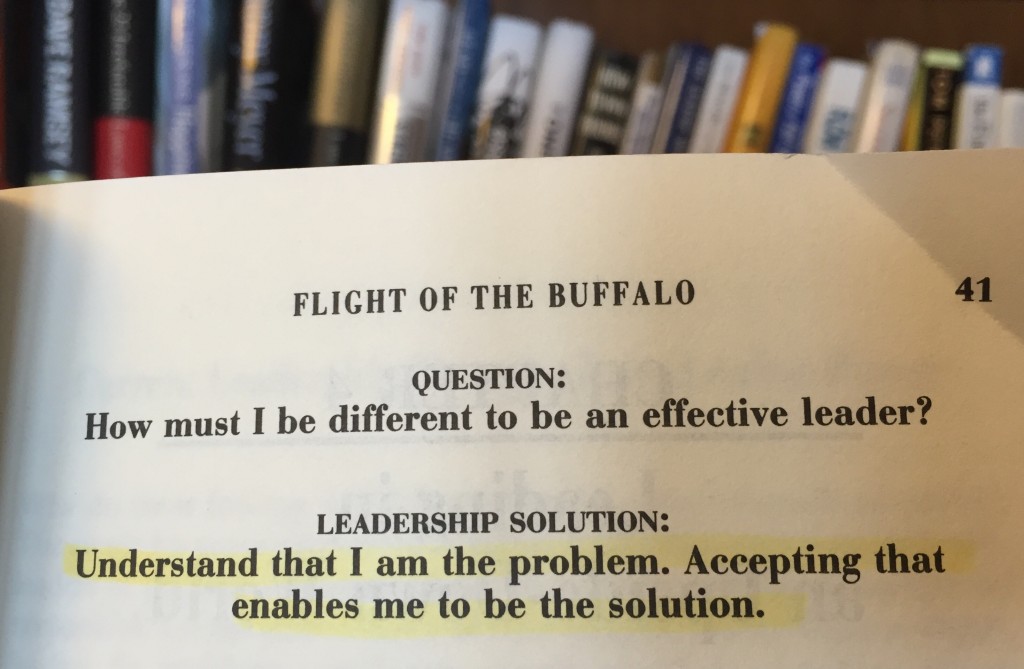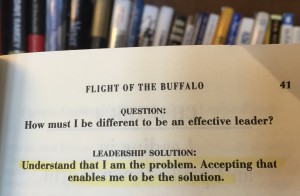 This highlighted portion of the book "Flight of the Buffalo" (Belasco & Stayer) changed the trajectory of my young career in 1995.
I believe that "messages" cross our paths every day that will help us move forward, unfortunately many times we are not present enough to notice them or we are not quite ready to hear the message yet on our growth and development journey.
These 2 statements spoke to my 25 year-old heart and mind. And then I took ACTION on the message.
It was time to take FULL responsibility of my life – every thought, every word, and every action.
No more excuses or reasons. No more blaming. No more jealousy. No more judgment. No more wishing. No more playing small.
If I really wanted to create the life of my dreams, it wasn't going to come to me – I had to go and create it.
This became my mantra and my daily commitment. Understand that I am the problem. Accepting that enables me to be the solution.
I am extremely grateful, blessed, and fortunate to be living the life of my dreams today because of it.
Every day I realize more and more that I really do have a HUGE influence on my results in life – personally and professionally – by taking full responsibility for every aspect of it.
Your mind will want to not fully comprehend, embrace, and live this mantra, as we live in a society that has lost much of its roots in self accountability, responsibility, and ownership. Don't fall for it my friends.
Decide in your heart and mind what type of life you want for you and your family and get after it! Stop living the life someone else has envisioned for you.
More often than not what is stopping you from actually creating that life is the person reading this blog.
Stop playing small. Start being YOU and sharing your gifts at the highest of levels. And then trust the process.